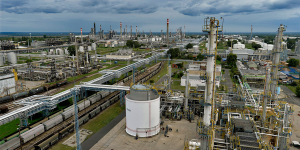 INFORMATIONS
On this page you can find those documents where you can select the topics you are intrested in. The Annual Report selected from the scroll-down list appears in "pdf" format, provided, you have Adobe Reader(R), or other application capable to read "pdf" files is installed on your machine.
If you cannot find the information you need, please contact us.
STATUTES OF THE HUNGARIAN PETROLEUM ASSOCIOATION
2.1. To protect and promote the general interests and social reputation of oil industry and trade. To achieve this aim the Association: a) protects and promotes the ethical order of connections among entrepreneurs; b) by operating various sections promotes the more effective professional work; c) can perform the duties of conciliation of interests in questions touching the profession; d) participates in the organization of the up to date training system of the various branches of oil industry and trade;
CODE OF ETHICS OF THE HUNGARIAN PETROLEUM ASSOCIOATION
The activities of firms producing processing and marketing crude oil and petroleum products stand in the focus of attention of business circles as well as of the general public. This requires increased care and responsibility taking of them, and demands absolute observance of both the written and the unwritten conventions of business life. Being aware of the above, the members of the Hungarian Petroleum Association, besides complying with the regulations of law, volunteer to act according to the rules formulated in this code of ethics and accept it as obligatory for them in the course of their business activities.